Performance Benefits
Excellent processability
The nonwoven fabric structure makes it easy to punch without fraying, and gives it excellent adhesion with other materials.
Ecsaine differs from standard fiber materials (woven or knitted fabrics) in that it has a nonwoven fabric structure in which the fibers are intricately intertwined. In addition, the polyurethane binding between fibers means that cutting and punching will not result in fraying and will eliminate the need for additional care such as end-surface treatment.
Ecsaine also has a significant track record when it comes to bonding with different materials, particularly for industrial material applications. It can be bonded to a variety of materials, including double-sided tape, adhesives, and hot melt sheets. In all cases, Ecsaine can be bonded without compromising its original resilience, and it can be used on curved and other surfaces.
Excellent recovery
The ultra-fine fibers are tightly entangled, and the polyurethane impregnated structure
provides excellent thickness and width recovery.
Ecsaine is an ultra-fine polyester fiber that is tightly interwoven with little space between fibers, and is impregnated with polyurethane to provide cushioning. This special structure provides it with better recovery than similar felt materials. Furthermore, the urethane content ratio of Ecsaine is lower than that of a standard urethane sponge, making it a material that is not easily hydrolyzed, thereby addressing concerns about polyurethane deterioration due to hydrolysis.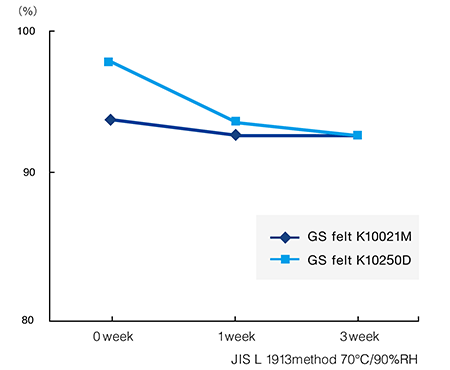 *This data is for reference and is not guaranteed.
Low friction
Has a moderate and uniform friction coefficient and is highly resistant to abrasion.
Ecsaine has low friction due to its brushed structure, and when used in locations where hard materials such as resin rub together, its moderate friction coefficient allows the opposing materials to slide smoothly without damage. In addition, Ecsaine has a directional nap allowing the same product to offer a different forward, reverse, and side friction performance.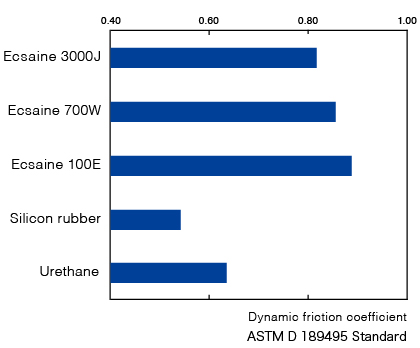 *This data is for reference and is not guaranteed.
Wipe-clean performance
The ultra-fine fiber nonwoven structure
allows for the wiping off of fine particles without damaging the other material.
The surface of Ecsaine consists of randomly and densely intertwined ultra-fine polyester fibers. The surface is therefore smooth, pleasant to the touch, and will not damage other materials. This dense ultra-fine fiber structure also catches and holds fine particles, making it ideal for sensitive wiping applications.
Ecsaine is also characterized by a wide variety of thicknesses. For example, the cushioning of thick Ecsaine can enhance polishing performance, leading to increased efficiency.
Water and oil absorption properties
The dense structure absorbs and holds water and oil.
Ecsaine has a nonwoven fabric structure made of ultra-fine fibers, making it porous. The capillary action of this porous structure is used to absorb water and oil. Ecsaine can absorb its own volume or more. It also features excellent retention of water and oil once it has been absorbed.
The source polyester material used for the ultra-fine fibers of Ecsaine is hydrophobic, so water and oil are not absorbed by the fibers themselves. This makes Ecsaine very easy to drying and handle.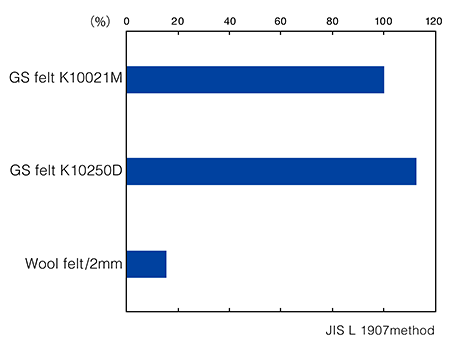 *This data is for reference and is not guaranteed.
Acoustic absorbency
High-frequency sound absorption for a comfortable acoustic environment.
The surface of Ecsaine has a complex structure, providing a large contact area for the audio wavelengths, resulting in excellent acoustic absorption.
The ultra-fine fibers of Ecsaine have more surface area and are more sound-absorbing than other nonwoven fabrics. Ecsaine is a material that provides excellent acoustic absorption for the high-frequency range (3,000 to 5,000 Hz) that is commonly considered to be unpleasant, leading to increased comfort.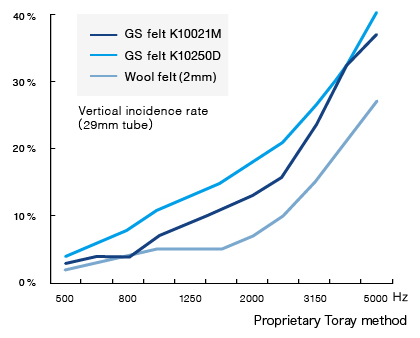 *This data is for reference and is not guaranteed.